PABLO flowpack packaging machine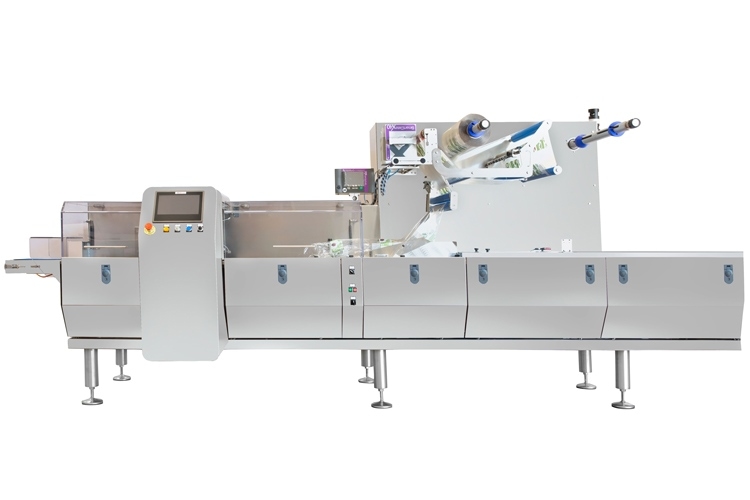 24-hour productivity, low operating costs!
The Pablo model is a flowpack packaging machine in which the products flow into the wrapping film in a horizontal line (HFFS). It has several features designed to improve productivity and reduce management costs.
The frame is extremely durable. The reinforced reel support allows for optional equipment, such as labelling devices and drilling machines, to be installed directly on the frame.
It provides an excellent low temperature sealing solution with less air inside the packaging. The model with gas insufflation is suitable for modified atmosphere packaging (MAP).It is also particularly suitable for packaging multi-packs or large products.
The electronically operated shifting sealing system guarantees the quick and easy creation of perfectly air-tight packages.
Thanks to our twenty years of experience, the Pablo model has acquired all the previous versions' best solutions: all of its components have the best technological characteristics, and are equipped with better regulatory-compliant safety devices.
Main characteristics
Internal expansion reel support shaft with fine reel centring adjustment and compensation brake.
New sealing wheel heating system that provides for reduced energy consumption and accurate temperature control.
Colour touch screen panel.
Film feeding and sealing carried out by three pairs of rollers (hot-cold-hot).
Photocell for verifying the centring of the mould.
Motorised output belt, length 800 mm.
Protective guard
Main optionals
Four pairs of sealing wheels
Micrometric liquid dosing (alcohol, anti-mould)
Double film feeding with automatic reel change
Automatic rejection of non-conforming products
Automatic adjustment of the infeed rollers
Pre-formation of the film
Long Dwell cross sealing unit
Gallery
Show others images