Sorting belt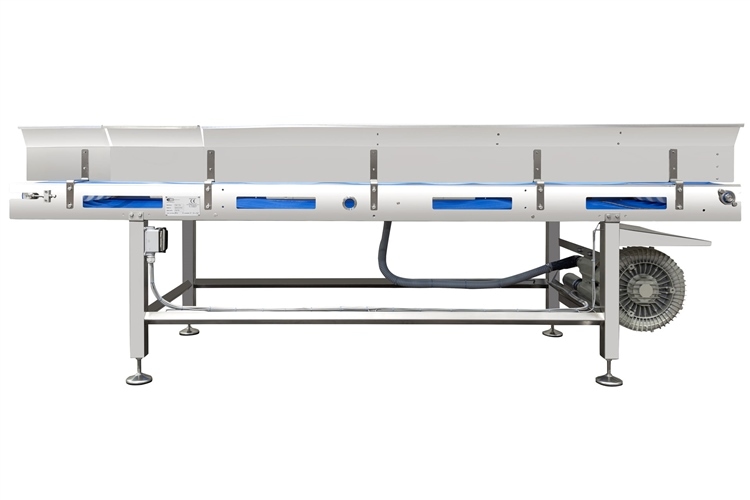 The sorting belts give that essential human touch to quality assurance processes!
Even the most advanced control belts can overlook certain types of defects that a person would identify immediately. That's what makes sorting belts so important: their human touch. These belts uniformly distribute the product in order to ensure that nothing evades the watchful eyes of the quality control team. Any products that do not meet the rigorous quality control standards can be manually disposed of using scrap bins or slides.
They're designed to handle the various aspects of the processing and packaging activities for lettuce, leafy vegetables, herbs, and other vegetables, and are capable of handling high production volumes by simply swapping out the product to be inspected. The machine is manufactured in compliance with the current CE standards, the Machinery Directive and the regulations for use in food handling environments.
Main technical characteristics
Monofilament polyester mesh (standard dimensions 1mmx1mm). Finished with edges in reinforced polyurethane and seams in Ammeraal/Sefar stainless steel wire
Coloured blue in order to ensure easy recognition among the products in the event of a break.
Drive wheels in acetalic resin
Height adjustable stainless steel support feet
Belt with hull, lateral containment edges, and support frame in AISI 304 stainless steel
Optionals
Monofilament polyester mesh with lateral walls, lateral guides, anchors, cleats, etc.
Air/water spray pipe for internal fabric cleaning
Swivel stainless steel wheels with brakes
Independent electrical control panel
IP69K LED lights positioned along the inner sides of the belt to facilitate the manual sorting of the product.
Gallery
Show others images