Rotary platform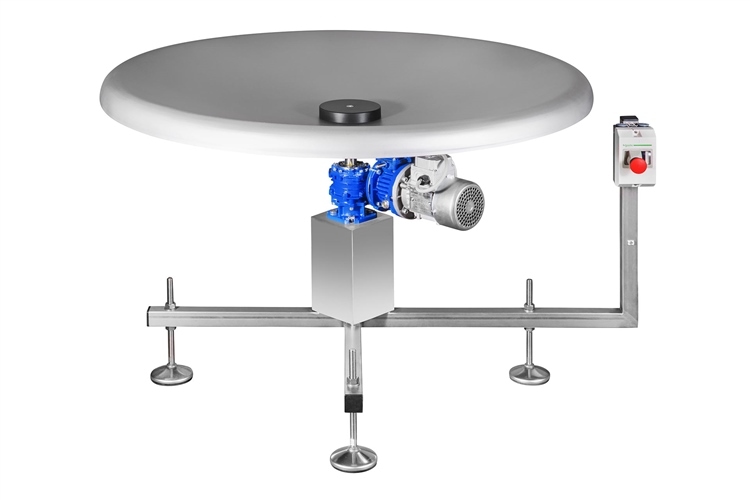 Flexible and effective, with a simple yet sturdy design, it's the ideal solution for the end of the line!
The rotary accumulation platform provides for additional packaging time based on the customer's needs, as it accumulates the packages at the end of the line, after the labelling of quality control stages. The main structure and the upper part of the rotary platform are made from AISI 304 stainless steel. The height can be adjusted based on the individual requirements.
This platform is ideal for use in the food industry, and is designed to be reliable, convenient, and maintenance-free.
The machine is manufactured in compliance with the current CE standards, the Machinery Directive and the regulations for use in food handling environments.
Optionals
Pivoting wheels with brakes
Gear motor (no variator)
Disc in food-grade nylon
Flat disc with containment edge
Technical data sheet
Platform: sandblasted AISI 304 stainless steel
Frame: AISI 304 stainless steel
Encumbrance Ø 1200 mm / Ø 1400 mm
0.22 KW motor. Includes variable speed drive for controlling the rotation speed
Variator 190/1000 Pam Compact Shaft D.11
Flange FA SW 50
Gear reducer SW50 Ratio 100/1 Pam 140/11 Hollow Shaft D. 25
Laep noise emissions dB – 70
NGI stainless steel articulated foot
Loading platform height from ground 823 mm ±  50
Weight Kg ± 75
Emergency button
Motor overload protection
Hygienic surfaces without welds
NGI anti-vibration stainless steel support feet
Gallery
Show others images