GALA flowpack packaging machine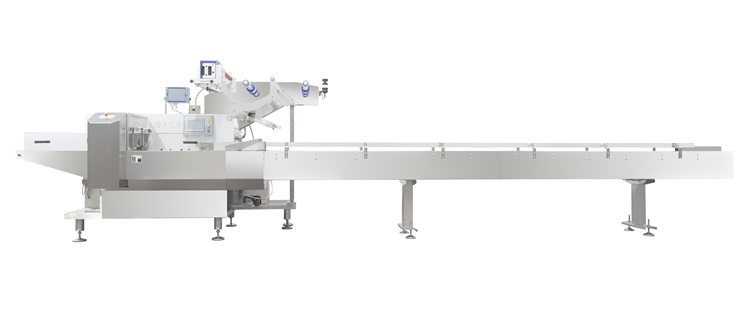 Simple, versatile, and reliable!
The GALA packaging machine is an electronic machine equipped with 4 axes servo-controlled by intelligent drivers. It's capable of packaging a wide range of both food and technical products, and is ideal for packaging crackers, biscuits, wafers, chocolate bars, cereal bars, snacks, bread, pizza, trays, gadgets, stickers, etc. The Gala model is a technologically advanced Flowpack machine with rotary sealers. It's reliable, easy to use and to maintain, which makes it an excellent ally for medium/high production volumes. It comes equipped with a state of the art PLC with temperature control, integrated diagnostics, a memory record for different formats, and a multifunction and multilingual touch screen display. The structure, entirely built in stainless steel, allows this machine to be easily used in damp environments; the electronics are located inside the machine's frame, where they can be easily accessed and are protected against humidity and infiltrations. Various accessories can be added to the basic machine model. The machine is manufactured in compliance with the current CE standards and the regulations for use in food handling environments.
Main technical characteristics
Right/left version
Cantilevered structure in AISI 304 stainless steel with rounded corners
Colour touch screen interface
Rotary cutting/sealing functionality
Packaging speed: 30m sealed/min
Incorporated loader, with product-controlled operation
4 pairs of sealing wheels (1 cold for film feeding, 2 heated for sealing, 1 for folding flaps)
Single shaft reel holder
Mould centring sensor
Possibility of cold sealing the packages
Fixed stainless steel forming tunnel
Output belt in FDA GRADE material, with independent motorisation
Openable Lexan guards with safety sensors
Suctioning of the air in the package
Predisposition for marking and labelling devices
Compatible films: all heat-sealable and machinable films, such as polypropylene, lightweight coupled film, cold sealing.
Types of packages
Standard pillow bags
Pillow bags with lateral sealing
Pillow bags with Euroslot
Pillow bags with zip closure
Gusseted bags
Gusseted bags with lateral sealing
Gusseted bags with zip closure
Easy Open gusseted bags
Easy Open gusseted bags with Euroslot

Optionals
Gas blower nozzle
Micrometric liquid dosing (alcohol, anti-mould)
Double reel support
Double reel support with semi-automatic on-the-fly reel-changing system with no need to decrease the machine's speed.
Expanding reel support
Reel support Useful length 700 diameter 380
Stainless steel roller conveyor
Universal forming tunnel
No product, no bag function
Moulding unit
Lateral blower for gusseted bags
Interior machine air conditioner
Euroslot
Machine base on wheels
Treatment of the aluminium parts with a non-stick and corrosion resistant nanotechnological FDA ceramic coating (EVO CPC), which also provides for a long-lasting self-cleaning effect and reduces maintenance costs
Treatment of the stainless steel with a nanotechnological coating (EVO G&S), for greater wear resistance and stain protection. It protects against water, oil, acids, moisture, mould, etc., while at the same time providing for a long-lasting self-cleaning effect and reducing maintenance costs.
Remote support. The router allows for the parameters to be checked, operating faults to be identified, and interventions to be performed remotely.
AVAILABLE MODELS
Gala Monodose: suitable for packaging small products and for use in environments with limited space.
Gala LD MAP: equipped with a Long Dwell cutting/sealing unit for high-speed processing and air-tight package sealing. Inner gas blower nozzle.
Gala SAN: sanitisable version. Structure and parts in contact with the product in stainless steel, and product loading output belt with quick release function to facilitate belt cleaning and replacement. Aluminium parts treated with a nanotechnological ceramic coating (EVO CPC).
Technical data sheet
Standard machine:
7" touch screen interface Ethernet port + USB PT070-WST4B-F1R1
Weight 800kg
Cutting/sealing functionality with rotary sealers. Maximum rotation & 220mm, maximum sealer dimensions 350mmx32mm thick. Motor SD1261/CAN.331- 45-135VDC + drive 450 1800 / motovario gear reducer NMRV050 i=10 – F. &14, flange 120 mm
Cartridge resistors L350 D 15 220V 700W
Type J thermocouple probes
Automatic loader: aluminium structure. Protective panels and lateral guides in stainless steel. Length 1550, FDA GRADE product detachment and advancement materials, equipped with a channel vacuum pump product retention system CL40HS. Motor SD1261/CAN.331- 45-135VDC + drive 450 1800/motovario gear reducer NMRV050 i=10 – F. &14, flange 120 mm. Product presence sensor SICK/Datalogic/Pepperl+Fuchs
4 pairs of sealing wheels, one of which is heated by 350W 110V resistors (Omega). Motor SD1261/CAN.331- 45-135VDC + drive 450 1800 / motovario gear reducer NMRV050 i=10
Automatic heat sealing wheel aperture
Single shaft reel holder, useful width 600mm, with simple reel replacement system, independent motorisation NMRV040 i=15 + 0.37kw motor
Fixed forming tunnel in stainless steel
1000mm long output belt in FDA GRADE material, with independent motorisation via drum motor mod. 80LP RL 280 EL 286 speed 0.59 m/s IP66
Openable guards for protecting the product at the input and the output from the cutting/sealing unit, with stainless steel frame and Lexan tunnel, equipped with safety sensor
Channel vacuum pump mod. CL40HS for removing the excess air from the packages prior to sealing.
Mould centring sensor SICK/Datalogic/Pepperl+Fuchs
Electrical power supply: 400 + Neutral – 50Hz
Consumption: 8 Amp – 6 Bar (continuous)
Automatic aperture of the sealing wheels
Standard reel dimensions: Width 600mm, diameter 380mm
CMZ electronic and motorisation components
Camozzi pneumatic components
NGI anti-vibration support feet in stainless steel
Gallery
Show others images
Packable products
Show others Packable products