Lift conveyor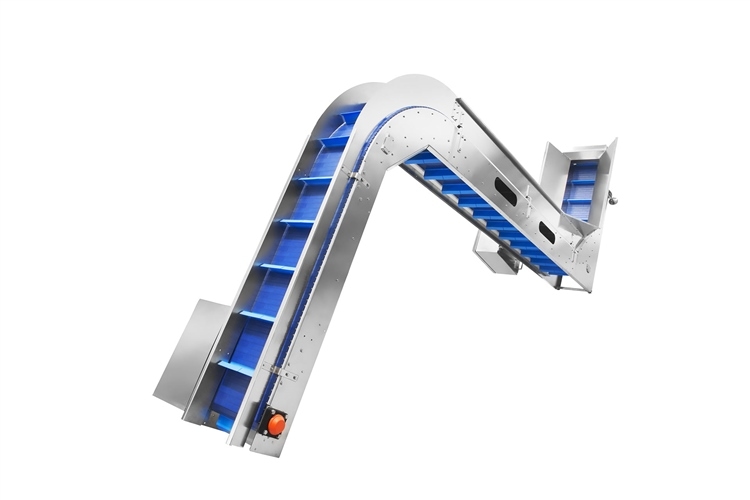 Lift conveyors allow the available space to be fully exploited without compromising on speed, efficiency or safety!
The "Z" lift conveyors transport the products quickly and safely to the required level so that the packaging devices can perform their tasks in the best possible manner. Our elevators are designed to be sanitized and efficient. Since they transport extremely delicate products from one level to the next, they're suitable for use in industries that deal with fragile or alterable products.
Our current line of Z conveyors has been improved and perfected through decades of experience, in order to offer our customers highly advanced technologies. The modular types of belt conveyors are particularly suitable for: heavy duty uses, general product transport applications, de-watering, freezer input/output, alignment and transfer of bulk products and/or products in trays.
The machine is manufactured in compliance with the current CE standards and the regulations for use in food handling environments.
Main technical characteristics
Built entirely from AISI 304 stainless steel and equipped with a flat or cleated, abrasion-resistant modular belt.
The cleats are available in heights of up to 102 mm with straight, curved, or rounded upper profiles. The customer can select the cleat height that will ensure the best possible product transfer, based on the application.
The Grip modules offer solutions for lifting boxes, bags and trays with no need to use the cleats, thereby simplifying the structure of the belt and the transfer points.
The horizontal loading and unloading sections can be adapted to ensure optimal product transfer.
The supports are made from AISI 304 stainless steel, and are equipped with height adjustable feet.
Standard incline 58° and 75°.
The belt has stainless steel trays positioned underneath the modular material in order to collect any dirt or debris generated during the product's transport. They can be removed for maintenance or deep cleaning purposes.
Optionals
Sanitisable version
Independent control panel with inverter
Automatic washing system
Stainless steel upper covers
Structure and support stand in AISI 316 stainless steel
Modular belt with lateral edges/cleats/etc.
Resistance to oil and heat
Technical data sheet
By using the entire range of "Intralox", "Ammeraal", "Forbo", and "SIT" modular material solutions, the belt can be configured for a wide range of applications
0.75kw gear motor
Height adjustable stainless steel support feet
Standard incline: 58° and 75°
Gallery
Show others images